Tina Buckel Retires from GCHD Environmental Health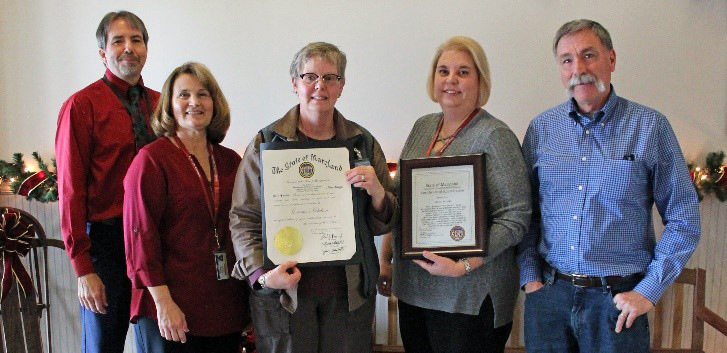 As Tina Buckel worked her last day in the Environmental Health division of the Garrett County Health Department on Friday, December 29, she reflected on her 34-year career. Through the years Buckel worked in various capacities in Environmental Health, retiring as supervisor of both the Food Program and Rabies Program, and as Assistant Director of the Environmental Health Division.
"I always thought it was important for me, on a daily basis, to remember that I serve the public, both residents of Garrett County and visitors," Buckel said. "I have taken great pride in my job and career and will miss this place greatly. There have been dramatic changes to Garrett County in the last 34 years and the Environmental Health Division of the Garrett County Health Department has typically had a hand in these changes."
Some of Buckel's various duties in Environmental Health included being responsible for food inspections, data management, and interfacing with Maryland Department of Health (MDH) for both the foods program and the rabies program. She reviewed facilities plans, and provided trainings as needed for both GCHD staff and food services facilities. She also coordinated with Personal Health when dealing with food borne outbreaks, and to keep track of pre-exposure treatment for the Environmental Health field personnel to keep them safe while dealing with specimens for rabies testing.
"Tina has been involved with all the daily operation of this office and has an extensive working knowledge of all we do," said Steve Sherrard, Director of Environmental Health. "You can't replace someone like Tina, she will be greatly missed."
"I believe that much of what we do in Environmental Health goes unnoticed, and that is as it should be," Buckel said. "We predominantly perform basic public health in this office."
The Environmental Health Division touches many areas of everyday life, working to educate the public and to enforce laws and regulations in the areas of drinking water supplies, sewage disposal, food protection, air quality, recreational facilities, public health nuisances, and rabies prevention.
"I have thoroughly enjoyed the relationships I have developed with the public, with the business owners/operator, with fellow GCHD employees, and with folks at the county and state level," Buckel continued. "I will miss my daily interactions with all of these people. I smile when I think of the changes that I have seen since starting my career at Environmental Health in the Courthouse. On my first day I was provided a workstation that had a WWII era desk, a rotary telephone, and a manual typewriter. We are now in the digital age, but I still have the typewriter stand to remind me of those times."
By: Diane Lee, Public Information Officer, GCHD