Maryland Children's Health Program (MCHP)
Working together for a healthier tomorrow!
Maria Friend, RN, BSN
Director of Early Care Programs
Phone: 301-334-7720
or 301-895-3111
FAX: 301-334-7722
E-Mail: maria.friend@maryland.gov
Hours of Operation:
Mon. - Fri. 8:00am – 5:00pm
Download the App!
If you're looking to enroll from your mobile phone or easily manage your MHC plan, be sure to download the new Maryland Health Connection app on the Google Play Store or the Apple App Store!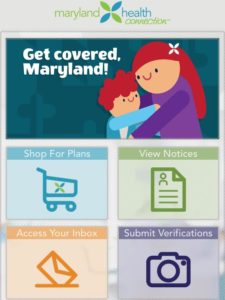 Maryland Children's Health Program (MCHP) Eligibility
Covered health services include hospital care, prescription medicines, prenatal doctor visits, hospital delivery, mental health services, dental and vision care, doctor's visits and checkups, shots, lab tests and other tests.
The GCHD MCHP Eligibility Unit provides assistance to determine medical assistance health insurance eligibility for pregnant women, adults and children.
The program operates year-round to determine continued eligibility, process income, job and family changes that impact eligibility and to assist in Maryland Health Connection processing.
Call for an appointment or for help in completing the online application at 301-334-7720 or 301-895-3111.
The Garrett County Health Department is also now offering free enrollment assistance at the Grantsville Outreach Center. The Maryland Health Insurance office is located on the first floor. Assistance is available for residents who want to apply for or renew their Maryland Medicaid, the Maryland Children's Health Program (MCHP) and MCHP Premium health insurance programs. If you need assistance with enrolling in, Health Choice, a managed care organization, or finding a physician we can assist you with the online process. Assistance with uploading verifications that are needed for the Maryland Health Connection application, updating important information or making changes to your existing application are also available.
Please call 301-895-5699 extension 201 if you have questions or to schedule an appointment. Walk-ins are welcome.