Telehealth
Working together for a healthier tomorrow!
Charee Y. Reckner, BSN, MBA
Director of Home Health
Room 120
Phone: 301-334-7750
From Grantsville: 301-895-3111
FAX: 301-334-7751
E-Mail: charee.reckner@maryland.gov
Hours of Operation:
Mon. – Fri. 8:00am – 5:00pm
In-home services provided 7 days a week. RN on-call 24 hours/day.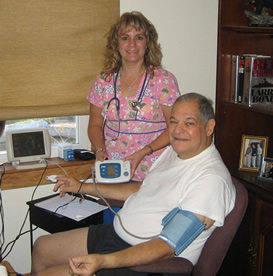 Beverly Marple, RN
Coordinator
E-Mail: beverly.marple@maryland.gov
The Garrett County Health Department Home Health Agency has the capabilities to provide TeleHealth services. TeleHealth is the process of using remote computer equipment to monitor the blood pressure, pulse, blood sugar, weight, etc., over a telephone line, back to the central nurse's station at the Health Department.
Any individual can receive Home Care or TeleHealth or both, depending on the needs. A physicians referral is required. Care may be received by persons of any age – children as well as adults. Home Health services are covered by Medicare, Medical Assistance, private insurance and by sliding scale. TeleHealth services are free. The program is supported by a grant from the University of Maryland .
Home Telehealth Benefits
Many patients just like you have used an interactive Telehealthcare system to see and talk to their nurse. Some of the benefits include:
Healthcare advice and oversight from your Home Health nurse, which provides better management of your health status.
Your nurse receives your vital sign information like blood pressure, pulse, blood sugar level and weight through the phone line to the Telehealth/Home Health office at the health department.
Your nurse is minutes away instead of miles away and can respond more quickly to your questions or concerns.
How the equipment works
For more information on these and other services please call 301-334-7750.
How the equipment works
Your nurse will monitor you through a simple system that uses your regular phone line. Telehealthcare will make the equipment available at no extra cost to you.
The system is very easy to use. It will require nothing more than touching the screen, reading the prompts and going through some simple steps.
There may be other devices that you will use, but your nurse will show you how to use them.
How the televisit works
You and your nurse will agree on a time for the televisit to occur once a day.
Your nurse will make a home visit in person once a week and as needed.
If you are not feeling well, you will be taught how to do an unscheduled measurement of your vital signs. This allows you to check yourself any other time than the once daily, required scheduled monitoring.
You will learn what signs and symptoms to report, where and when to report them and how to take better care of yourself in order to avoid illness and/or hospitalizations
How to ask for a televisit
Ask your doctor if you are eligible for use of telehealthcare.
Your doctor will then refer you to us.
Your nurse will call and arrange a conveinent time to make the first visit.
Your nurse will bring the equipment and show you how to use it.
What Else Should I Know?
Your care will be the same whether the nurse comes to your home or visits via the telehealthcare system.
You will have a mix of in-person and televisits to make sure that you are getting the care you want and need.
You must have a physician referral.
This cannot be used for emergencies. Your nurse will be available during GCHD working hours, M-F, 8:00am to 4:30 pm. excluding state holidays.