Pizza & Play and Socializations
Working together for a healthier tomorrow!
Maria Friend, RN, BSN
Director of Early Care Programs
Phone: 301-334-7720
or 301-895-3111
FAX: 301-334-7722
E-Mail: maria.friend@maryland.gov
Hours of Operation:
Mon. - Fri. 8:00am – 5:00pm
Early Care Program offers two socialization opportunities:
Pizza & Play Events:
This event is for parents and children ages birth to 5 years old. You can also attend during your pregnancy to meet other parents. Group events are scheduled each month at various locations in Garrett County. Bring your child and enjoy an hour of exploring, learning, and fun! Light refreshments are provided. Events are free.
Stroller Walks:
Stroller walks start in April and are held monthly through September. Walks start at 11 a.m. and are held in various parks in Garrett County. Bring a stroller and your children for an hour of walking and socializing. Water is provided.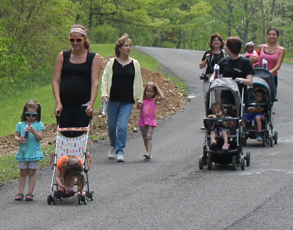 For more information call 301-334-7720 or 301-895-3111, or find us on Facebook at Garrett County Health Department Early Care Programs.
If schools in Garrett County are closed due to weather, the event will be canceled.