Tobacco Cessation
Working together for a healthier tomorrow!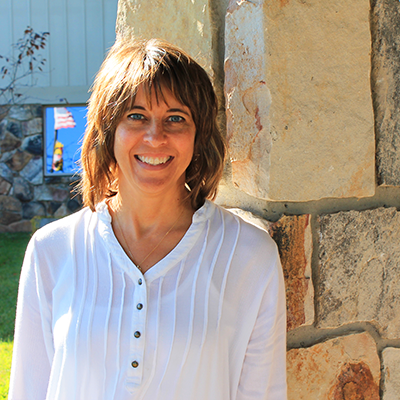 Kendra McLaughlin
Director of Health Education
Phone: 301-334-7730
FAX: 301-334-7701
E-Mail: kendra.mclaughlin@maryland.gov
Hours of Operation:
Mon. – Fri. 8:00am – 5:00pm
For help quitting smoking, staff from Health Education and Outreach offer the following FREE cessation options:
Adult Tobacco Cessation Classes
Research shows involvement in a group increases the chances of success in quitting tobacco. "During our cessation classes we simply sit around the tables and participants talk about what's working and what's not during their journey to be tobacco free," said instructor Mike Wilburn. Pictured above participating in a current cessation class are from left to right, Wilburn, Kimberly Michaels, Sonny Michaels and Donna Ferguson.
Any Garrett County resident can participate in ongoing classes offered at the health department and other community locations throughout the year. Each set of classes lasts 10 weeks with weekly meetings of approximately one hour. Vouchers are provided for the full cost of the nicotine patch, Zyban®, nicotine gum, and nicotine lozenges for interested participants. The vouchers can be redeemed at most county pharmacies. Click for schedule.
FREE Smoking Cessation Classes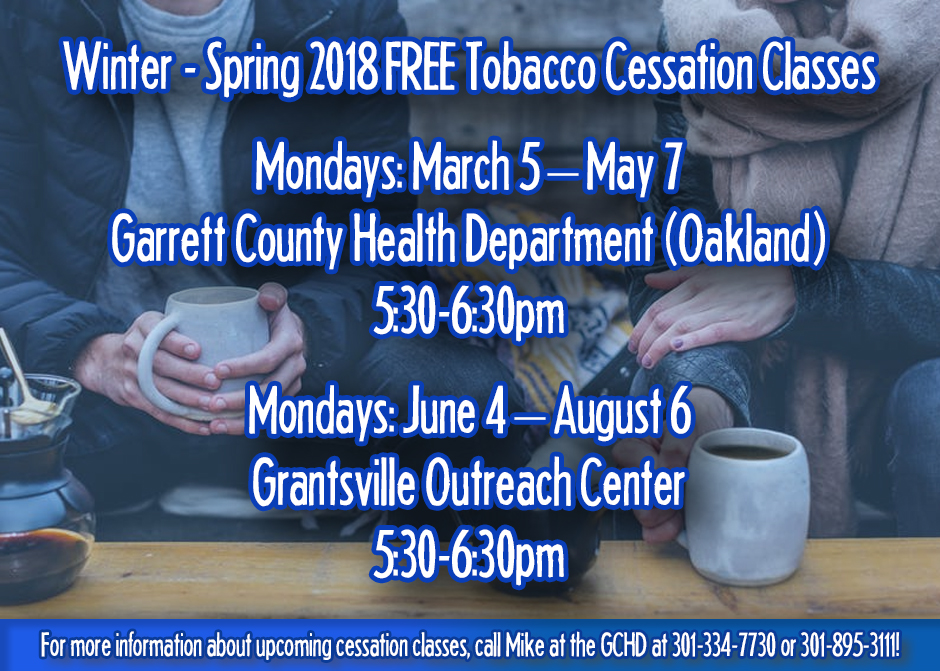 Additional classes may be scheduled throughout the year. The location and times can be determined by community interest. For example, a class may be scheduled in a community if at at least 6 persons are interested in taking the class. Persons are encouraged to call or e-mail us if they are interested in a class being conducted in their area of the county. Classes will advertised through The Republican Newspaper, or check back here for updates.
PRE-REGISTRATION IS REQUIRED FOR ALL CLASSES.
For more information or to register for a class, contact Mike Wilburn at 301-334-7730, 301-895-3111 or michael.wilburn@maryland.gov.
Youth Tobacco Cessation
There are two available options for youth who need assistance or education about quitting.
TAP- Tobacco Awareness Program designed for youth who are self-motivated to quit. Helps to gently guide youth to quit date and help them remain tobacco-free.
TEG – Tobacco Education Group designed to be used as a positive alternative to suspension, fines, or other penalties for violation of Minors' Tobacco Laws or school policy. Helps motivate youth to cut down or quit. Designed to be an educational program, not a cessation program.
For more information contact 301-334-7730 or 301-895-3111 or e-mail michael.wilburn@maryland.gov.
Self-Help Materials
For the person who is thinking about quitting, but not yet ready for a class, health department staff will provide a packet of self-help materials.
Individual Cessation Counseling
If you are a pregnant woman or someone who lives in a household with a pregnant woman or with a child under 1 year of age, individual counseling is available to help you quit smoking.
For more information contact 301-334-7730 or 301-895-3111 or e-mail michael.wilburn@maryland.gov.
Cessation Links: