Garrett County Health Officer Retires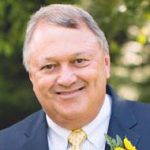 Rodney Glotfelty retired from the Garrett County Health Department on Friday, June 30th, exactly 41 years after he began his career there as a sanitarian in Environmental Health. For nearly two decades he has been serving as Garrett County Health Officer, reporting to both the County Commissioners and to the State of Maryland.
Glotfelty graduated from the University of Maryland in 1974 with a B.S. Degree in Zoology and began his career at the Garrett County Health Department in Environmental Health Services as a sanitarian on June 30, 1976.
"I loved working in Environmental Health so much that I decided that public health would be a good career for me," Glotfelty said. In 1980 he took a short leave of absence to complete his Masters in Public Health at Johns Hopkins Bloomberg School of Public Health. After serving as Director of the Garrett County Office of Solid Waste and Recycling from July 1993 through mid-October 1998, he returned to the Health Department as Health Officer.
"It's been a wonderful career in public health," Glotfelty said. "I'm lucky to have served the citizens of Garrett County for such a long time. It's such a great place to work because of the incredible wealth of community partners. The entire health care community works together to improve the health of our citizens."
During his tenure as Health Officer, he and his staff worked through several rounds of budget difficulties; brought all of the offices together under one roof; revitalized Health Planning Council; built solid relationships with the Commissioners, Garrett Regional Medical Center, Community Action, Board of Education, Mountain Laurel Medical Center, Maryland Area Health Education Center West, and many other state and local partners. He is a past president of Maryland Association of County Health Officers and Maryland Rural Health Association. He continues to serve on the Board of Directors of the Maryland Rural Council and on the board of Garrett Trails, serving as their secretary.
"I'm proud of the fact that we have made improvements in population health, and that we consolidated all the health department services into one central location," said Glotfelty. "And I am so proud of the staff; they are top notch."
Most recently Glotfelty helped the agency achieve Public Health Accreditation and revamp the agency website to develop a strong digital presence.
"Rodney is universally respected and well liked, not just in Garrett County, but throughout the State of Maryland," said Commissioner Paul Edwards. "That kind of respect is only given to someone who does a great job. The quality of his leadership is demonstrated by the agency receiving Public Health Accreditation. It's like winning the Super Bowl."
The Garrett County Commissioners have appointed Bob Stephens as the new Garrett County Health Officer. Watch for an article about Stephens in The Republican next week.