Worksite Wellness Program Is Making Strides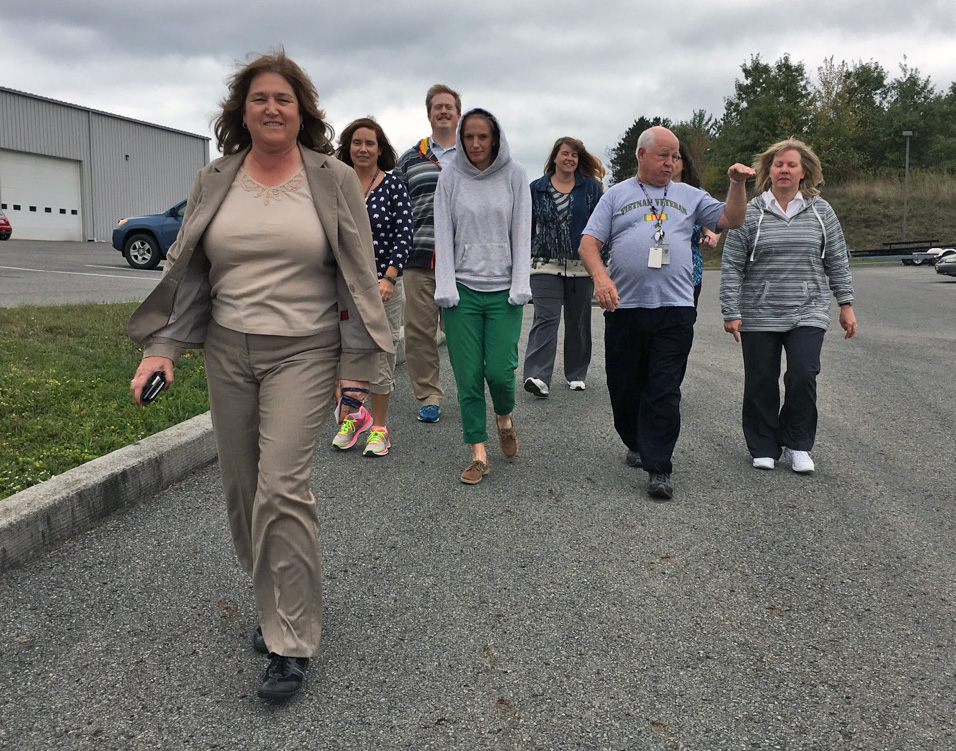 Healthier workers is one of the goals of the worksite wellness program being promoted by the Garrett County Health Department. Employers are encouraged to participate in the Worksite Wellness Program, providing benefits for their staff, and increasing the health of their workers.
"We are very excited about the participation we have had in the last several years," said Amy Ritchie, grant coordinator and Dietitian at the health department. "The grant is a chronic disease prevention grant, and the more we can promote positive, healthy behaviors, such as physical activity and healthy eating, the more we can prevent chronic disease, or reduce its impact."
The program has helped make many positive changes at workplaces around the county. Walking trails, both indoor and outdoor, have been measured at many locations, and employees are encouraged to walk before work, during breaks, and after work. Friendly walking and weight loss competitions are organized within a worksite, or against other worksites.  Employees receive incentives, such as pedometers, water bottles, and stretchy exercise bands, and employers receive grant money to help make improvements in creating a health promoting environment.
"Employees spend a lot of time in their work environment," Ritchie said. "If we develop strategies that promote health and support and reinforce healthy behaviors at those locations, it's a win-win situation."
Other positive changes at worksites include adding water coolers, and replacing some unhealthy food options with healthier choices in employee vending machines.  Monitoring blood pressures allows education to be provided to those with high blood pressure. Employees are encouraged to take the CDC risk assessment test to see if they are at risk for prediabetes. Those showing a high risk are encouraged to enroll in Garrett Regional Medical Center's free Diabetes Prevention Program.
"Although there are a few things the employer needs to do to participate in the program, the benefits greatly outweigh the requirements," Ritchie said. Requirements include forming a wellness committee at the worksite if one does not already exist, completing the CDC Worksite Scorecard, and creating an activity plan with the help of health department staff.
Worksites that complete and submit the CDC Worksite Scorecard are then recognized as a "Healthiest Maryland Business."
"Healthiest Maryland is a statewide movement to create a culture of wellness – an environment that makes the healthiest choice the easiest choice," said Ritchie. "A wellness program ensures that everyone wins – companies save on healthcare costs and absenteeism while benefiting from improved productivity and performance, while employees and their families get healthier."
One community wide benefit from the program is a collection of walking trails that have been measured off in various communities. A brochure of their locations, including maps showing mileage with start and finish locations is available from the health department. Visit the new Go Nuts With Amy! blog at GarrettPlan.org/go-nuts to download the brochure.
For more information on the Worksite Wellness Program, contact Amy Ritchie at the Health Department by calling 301-334-7730, or 301-895-3111.
For Immediate Release:  February 7, 2017
Contact Person: Diane Lee, PIO, 301-334-7689