Responsible Retailers Recognized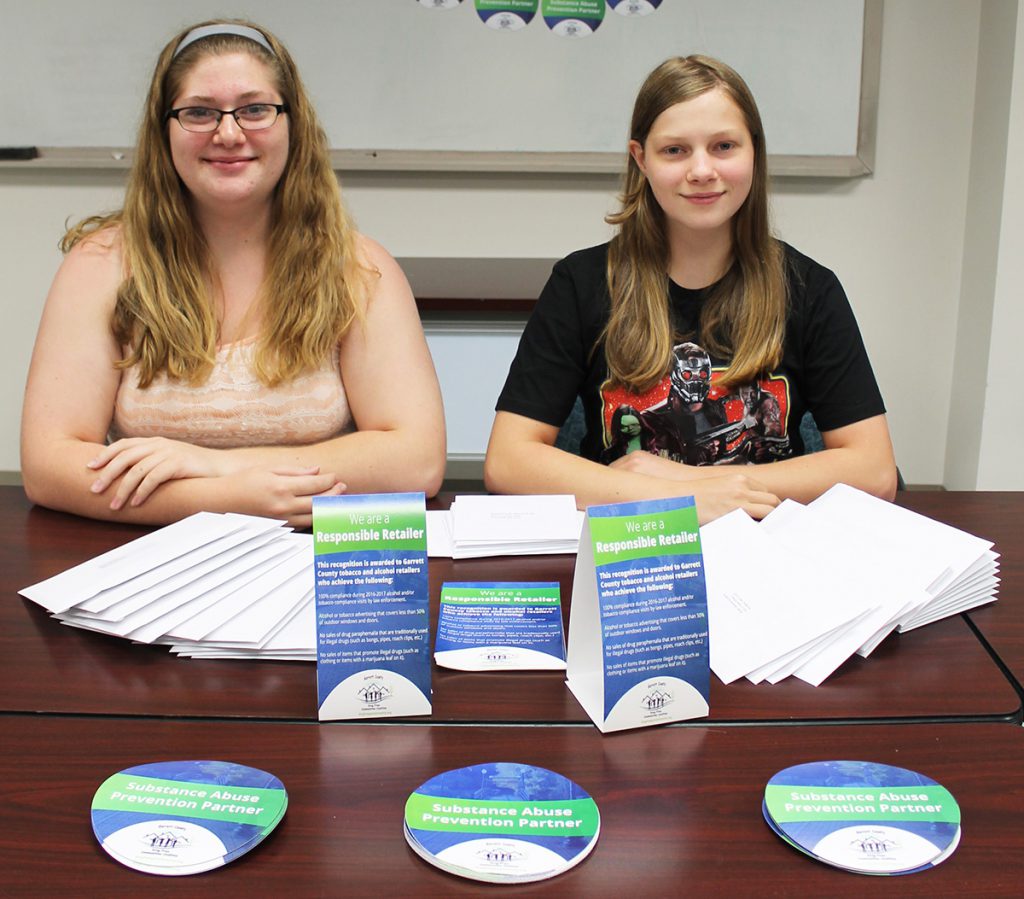 As a follow-up to observations conducted by several youth in May, the Garrett County Drug-Free Communities Coalition Action Teams mailed packets to area businesses this week.
Thank-you notes were hand written by sisters Teresa and Danielle Wolf, who were a part of the team who conducted the original observations. The notes were included in packets sent to 25 businesses, with the message, "We visited your store in May, and were pleased to see that you met all of the requirements…to be considered a "Responsible Retailer." The packet included table tents and window clings with the responsible retailer designation on them.
"We are hoping that customers notice the Responsible Retailer designation at these businesses, and thank them for helping to keep Garrett County youth safe!" said Danielle.
To be designated as a responsible retailer, stores had to meet the following requirements: 100% compliance during 2016-2017 alcohol and/or tobacco compliance visits by law enforcement. Alcohol or tobacco advertising that covers less than 50% of outdoor windows and doors. No sales of drug paraphernalia that are traditionally used for illegal drugs (such as bongs, pipes, roach clips, etc.) No sales of items that promote illegal drugs (such as clothing or items with a marijuana leaf on it).
Additional notes were sent to 13 businesses which did not meet all the requirements, but were thanked for not selling any type of drug paraphernalia traditionally used for illegal drugs, and for not selling any items with emblems that promote marijuana.
"We want to help make Garrett County a place where we – the youth – have the best chance to grow up drug-free!" said Teresa.
In May Garrett County youth, in partnership with the Drug-Free Communities Coalition Action Teams, conducted "environmental scans" at 42 Garrett County businesses. Through photos, they documented the extent of tobacco, alcohol, and marijuana advertisements around the county.
The youth are not finished with their environmental scans. It will be an ongoing process, at community festivals and events such as the Garrett County Agricultural Fair, community homecomings, Autumn Glory and so on. The data gathered by the youth will continue to be compiled and shared with the public, with government officials, and with the businesses and organizations which are observed.
For more information about this or other prevention topics call Health Education and Outreach at the Garrett County Health Department at 301-334-7730 or 301-895-3111.