PAS @ Accident Students Learn Empathy Through Fundraiser Participation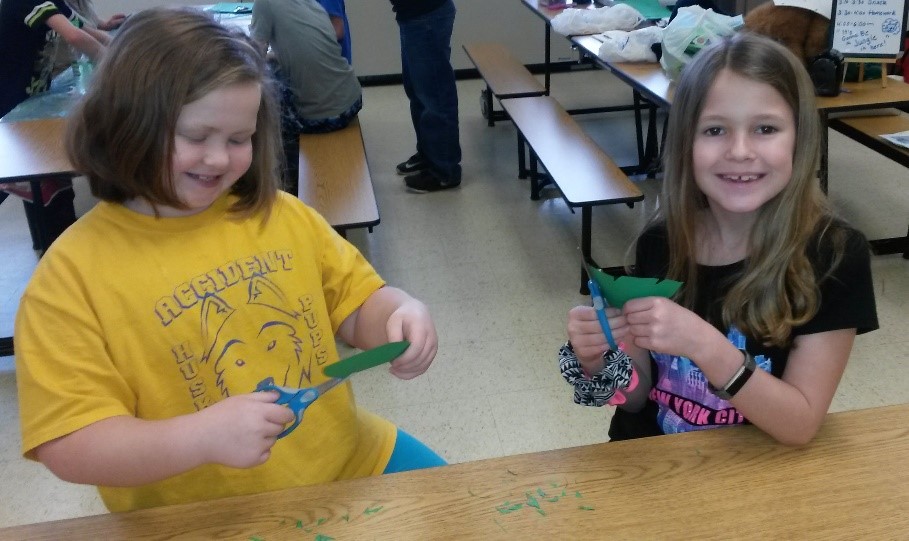 By Sarah Humberson, PAS @ Accident Assistant
Partners After School @ Accident recently participated in a service learning activity to help the Husky Pups for Quinton fundraiser. The fundraiser, which took place at the school in April, was a benefit for Quinton Sigmund, a first grader at Accident Elementary School, who needed a liver transplant due to a congenital condition.
At Quinton's request, the theme of the fundraiser was the Jungle Book. Partners After School (PAS) @ Accident volunteered to make the decorations for the event. "The Accident community really came together to help and support the family," said Venessa Stacy, Directors of PAS @ Accident, "and our program was proud to be a part of the fundraiser."
In an effort to transform the cafeteria into a jungle, students and staff constructed vines to decorate the dining area, and decorated a banner that read Husky Pups for Quinton. The students painted paper plates to look like Jungle Book animals, including gorillas and tigers. They used green construction paper to make snakes, and tissue paper to make flowers. Other groups also helped with decorations. The Oakland library loaned their large stuffed snake, gorilla and panther to spruce up the eating area. The FOR (Friends of Rachel) Clubs at SHS and SMS, and teacher assistants at SMS cut out leaves for the vines.
"The PAS @ Accident students who worked on the crafts said they hoped Quinton would feel happy seeing the decorations," Stacy said. "They hoped they would be a good reminder later of the support and love he has from his community and school."
"Quinton had the surgery several weeks after the fundraiser, and we were happy to find out that it was a success," Stacy said. "The entire family spent time at Johns Hopkins Hospital as Quinton and his father, who was his living donor, recovered from the surgery."  Quinton's parents are Michael and Laura Sigmund, and he has a baby brother.
"The ultimate goal of this service learning project, in addition to helping the Sigmunds, was to instill a sense of empathy and giving in the PAS students," said Stacy. "Those traits make Accident a wonderful community in which to live, work, and serve."
Partners After School @ Accident is administered by the Garrett County Health Department, and is made possible by the LMB, the Maryland State Department of Education, the 21st Century Community Learning Center program, and the Governor's Office for Children.
For more information about either of these PAS programs call the health department at 301-334-7730 or 301-895-3111.
For Immediate Release:  May 16, 2017
Contact Person: Diane Lee, PIO, 301-334-7689