National Prevention Week Designated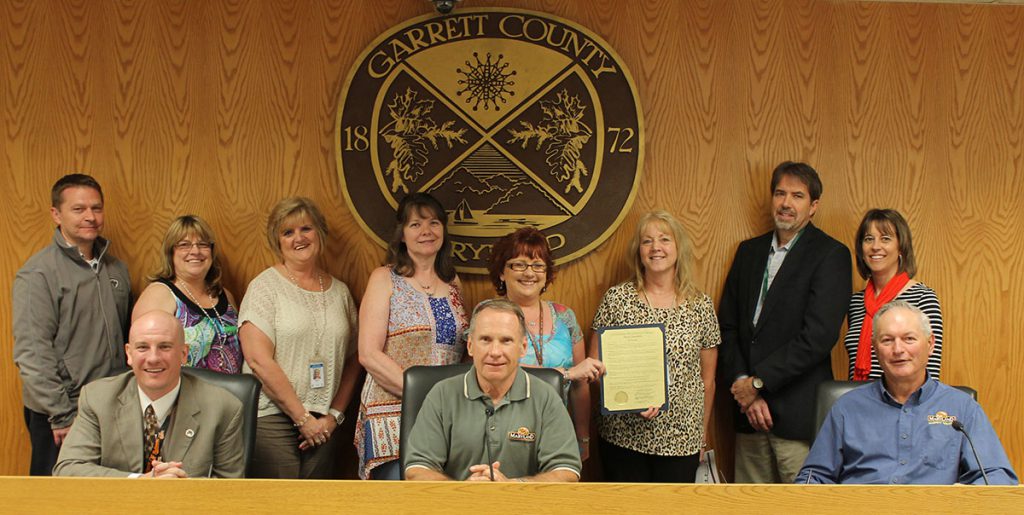 The Garrett County Commissioners signed a proclamation on Monday, May 1, recognizing May 14-20, 2017, as National Prevention Week in Garrett County. The week is an annual health observance dedicated to increasing the prevention of substance use and promotion of mental health sponsored by Substance Abuse and Mental Health Services Administration (SAMHSA). The observance brings individuals, organizations, coalitions, states, and communities together through local events to raise awareness about the importance of preventing substance use and mental disorders.
The theme for National Prevention Week 2017 is "Making Each Day Count."
"The theme highlights the important role individuals and communities alike have in helping people lead healthy, productive lives," said Brenda Sisler, Prevention Coordinator at the Garrett County Health Department, "and in raising awareness about the importance of substance use prevention and promotion of positive mental health."
The Health Department will be targeting different topics during different days throughout the week:
Prevention of Youth Tobacco Use (Monday, May 15)
Prevention of Underage & Binge Drinking (Tuesday, May 16)
Prevention of Prescription & Opioid Drug Misuse (Wednesday, May 17)
Prevention of Illicit Drug Use & Youth Marijuana Use (Thursday, May 18)
Prevention of Suicide (Friday, May 19)
Promotion of Mental Health & Wellness (Saturday, May 20)
"Special events will be publicized on the Health Department's Facebook page," Sisler added. "Watch for specific discussion topics on GarrettPlan.org on the days listed, and participate in any that interest you."
For more information on National Prevention Week call Health Education and Outreach at the Health Department at 301-334-7730 or 301-895-3111.
For Immediate Release:  May 2, 2017
Contact Person: Diane Lee, PIO, 301-334-7689