Lights On Afterschool Celebrated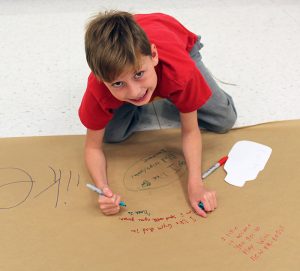 The Partners After School programs @ Oakland and @ Accident joined forces to celebrate Lights On Afterschool on Thursday, October 26th. Students from the Accident program traveled to Southern Middle School to join participants from the Oakland program in the celebration.
The combined group shared recreation and snack times, and then took part in stations which highlighted the enrichment activities students will participate in throughout the year. Stations included giant games, build a healthy snack, creation station (making a mask), literacy, and collaboration stations (what kids like about PAS). Garrett County Department of Social Services provided goodie bags for all the students.
Lights On Afterschool is designed to celebrate the achievements of after school students and draw attention to the need for more afterschool programs to serve the millions of children nationwide who are unsupervised and at risk each weekday afternoon. More than 8,000 such events took place across the nation, emphasizing the importance of keeping the lights on and the doors open after school. Lights On Afterschool is organized by the Afterschool Alliance, a nonprofit public awareness and advocacy organization working to ensure that all children have access to quality afterschool programs.
Partners After School programs are provided by the Garrett County Local Management Board (LMB), Governor's Office for Children, Maryland State Department of Education, the 21st Century Community Learning Center Program, and United Way of Garrett County. Programs are administered by Garrett County Health Department and Garrett County Community Action Committee. For more information, call the LMB at 301-334-7445 or 301-895-3111.