GCHD Planning Team Delivers Keynote Address At National Conference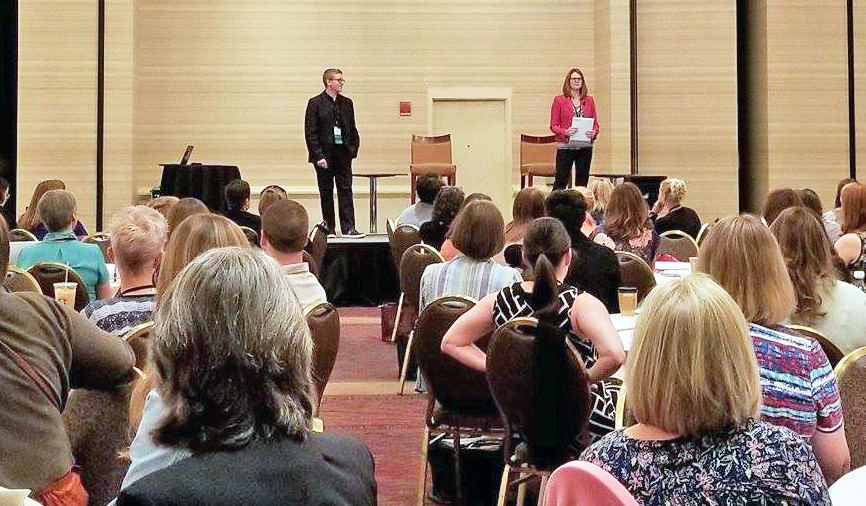 Garrett County was recently represented at the National Public Health Improvement Training Conference in Albuquerque, New Mexico.
Shelley Argabrite, M.A., Population Health Planner along with her colleague John Corbin, Public Affairs Specialist from the Garrett County Health Department were invited to deliver a keynote address about a digital collaborative they co-created to meaningfully engage residents in discussions about health.  Upon completion of the keynote, ninety-six communities across the United States, Canada, and Micronesia were interested in adopting the digital collaborative.
Incorporating new technologies can present challenges in rural communities, but Garrett County has a long history of quickly adopting public health innovations. After the project was successfully implemented in Garrett County, the team wrote for and recently received a highly competitive grant of almost $200,000 from the Robert Wood Johnson Foundation as a 21st century innovator. A large portion of the funds will stay in the county to optimize local services with an additional piece designated to teaching other communities across the nation to engage their population utilizing this tool.
"The timing is ideal," said Argabrite. "Communities need to collaborate now more than ever as funding sources continue to be threatened. In public health it's our mission to help one another reduce disparities by improving equity and building capacity not only in our own community, but communities around the world."
The digital community collaborative can be found at mygarrettcounty.com. Over 30% of Garrett County's population is actively involved in regular discussions, planning and collecting data to improve the health of county residents.
"We are predicating paradigm shifts that could change the way we strategically plan, making us more responsive and prepared to address critical issues in the county," said Rodney Glotfelty, Health Officer. "I'm so proud of both Shelley and John, in fact I accepted a Maryland State Employee Recognition Award for Innovation on their behalf while they were presenting in New Mexico this past week!"
"The message – GO DIGITAL – and be a part of the change you would like to see in Garrett County by visiting mygarrettcounty.com," Argabrite said. Open meetings of the Health Planning Council continue to be held at 8:00 a.m. on the fourth Thursday each month in the main conference room of the Garrett County Health Department. The public is invited and encouraged to attend.  For more information call the Garrett County Health Department at 301-334-7700 or 301-895-3111.